Exhibit at the HR TechXpo 2019
Top 10 Reasons to Exhibit
1. HR-technology market continues to rapidly grow. With constant company changes, the HR leader needs more education in the technology space to meet these challenges.
2. Have a SaaS and AI product or an app? The HR community is leaning on sophisticated technology solutions to solve HR issues --everything from enhancing employee communications, processes and project management tools to solving recruitment and talent management issues.
3. Expand your customer base: HR community wants to know how to enhance the employee experience beyond just HR job issues, which could include anything from carpool options, snack perks, performance reporting tools and more.
4. Connect with hundreds of HR Pros in the West - Create, build and nurture relationships.
5. Be one of the most cutting edge solutions at the center stage of innovation. Urbandoor, Namely, Lattice, Lever and more will be at HR TechXpo - Join us!
6. Brand Awareness - Branding opportunities beyond your booth. Pre-show marketing and affordable branding and sponsorship options available
7. Showcase your products/services - Private live demos available
8. Attendees are key decision makers and influencers: 74.6% is a manager or above; 42.2% have been in HR for 16+ years.
9. Maximize your marketing and exposure with two great locations, Seattle and San Francisco. Home to the world's progressive companies, the West is the most innovative place on earth.
10. With an intimate and interactive setting, you will capture more valuable time with your target audience. Get feedback and learn more about your target audience.
View Presentation
Exhibitor Inquiry
Submit your information and we will get in touch with you!
Reserve Your Spot Today
At the HR TechXpo, exhibitors are our partners in the event with exhibit space located throughout the venue in the main traffic paths. Meet face-to-face with HR decision makers and get your brand in front of hundreds. Reserve your spot today for 2019! Contact Denise Granados, Director of Business Development, at
dgranados@nchra.org
for more information.
Want the latest research on HR buyers conducted by Next Concept HR Association and Starr Conspiracy? Request the report from Denise Granados at
dgranados@nchra.org
.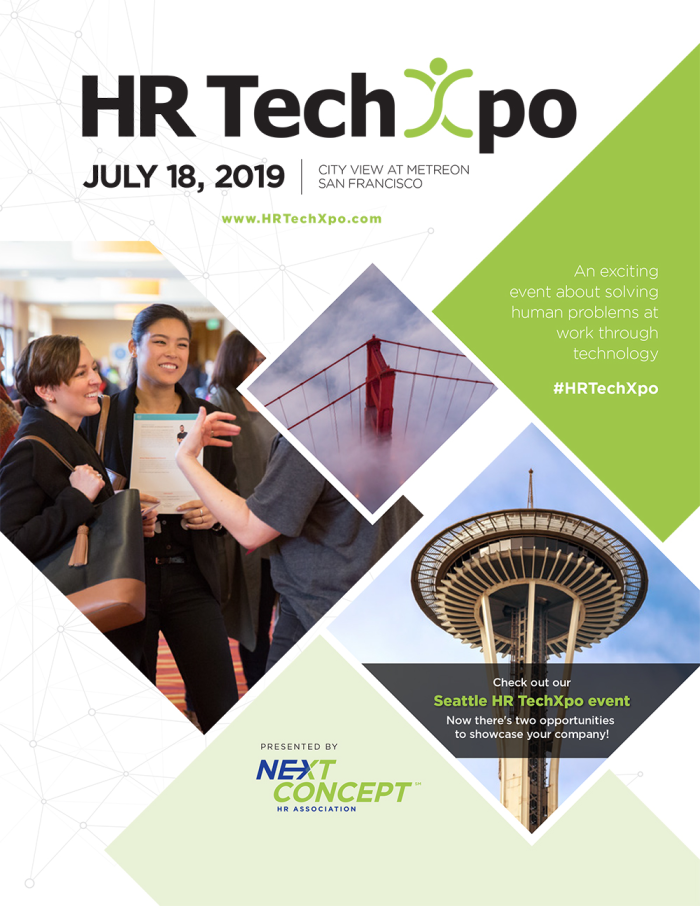 View the Prospectus